Semi Vortex impeller design minimize the Clogging situation for maximum durability and maintaining pump performance. Built-in shaft mounted agitator prevents the "air lock"and reduces the clogging situation.
Application Limits
Water temperature: up to 40?
PH: 6.5 to 8.5
Power supply: -Single phase 220V±10%,50Hz,60Hz -Three phase 380V±10%,50Hz,60Hz
Insulation class: F
Protection class: IP68
Cable length: 8m
Max water depth:10m
Application Limits
Civil engineering, building sites, basements or other utility pits, rainwater, mud water and high-viscosity fluid.
Special features on request
Technical Data
Model(50/60Hz)
Outlet
Motor Power
Rated Current (A)
Rated Capacity
Rated Head
Max Capacity
Max Head
Impeller Passage
mm
kW
HP
1~
3~
m³/h
m³/min
m
m³/h
m³/min
m
mm
FS(M)2.4(F)
50
0.4
0.55
3.0
1.3
7
0.12
8
12.6
0.21
12
6
FS(M)2.4(F)
50
0.75
1
5.0
2.0
10
0.17
11
16/15
0.27/0,25
18/19
6
FS(M)3.75(F)
80
0.75
1
5.0
2.0
12
0.20
10
18
0.3
17/18
6
FS:Three phase;FSM:Single phase;FSM...F:Single phase with Float switch
Performace Curves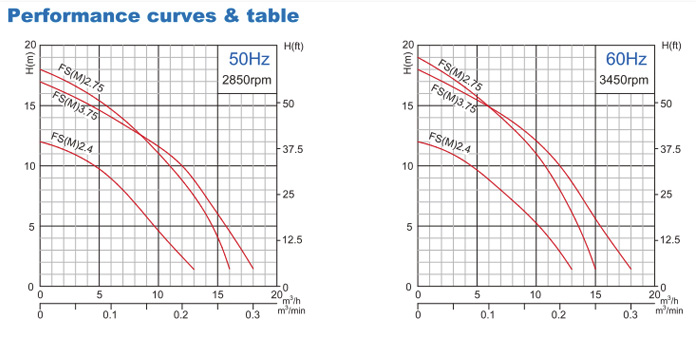 Download Catalog Here (Right Click and Save As)