The body of motor and pump is made of rigid cast iron for long-lasting durability.
Greatly increased maximum submersion depth due to mechanical seal resistant to high pressure.
Semi-open impeller made of high chrome alloy match with wear plate (ductile iron) achieves superior durability.
Effective motor cooling due to discharge channel cast as part of the motor housing. Space economy by a top outlet.
Discharge 50mm (2") to 150mm (6"), motor 1.5kW (2HP) to 15kW(20HP).
Hermetically sealed motor equipped build-in thermal protection for the power below 15kw.
Application
Civil engineering
Mines,quarries,coal ore & slurries
Sewage treatment plants
General pumping purposes
Specification
Capacity: up to 160 m³/h
Head: up to 57 meters
Power:1.5kW(2HP) to 15 kW (20HP)
Power supply: three phase 380 V±10%, 50Hz, 380 V±10%, 60Hz
Insulation class: F
Protection class: IP68
Cable length: 8m
Water temperature: up to 40?
Max.water depth: 25m
Special features on request
Other voltages
The length of cable is optional
Technical Data
Model(50Hz)
Outlet
Motor Power
Rated Current (400V)
Rated Capacity
Rated Head
Max Capacity
Max Head
Impeller Passage
mm
kW
HP
A
m³/h
m³/min
m
m³/h
m³/min
m
mm
KBZ21.5
50
1.5
2
3.5
15
0.25
15
27
0.45
22
8.5
KBZ31.5
80
1.5
2
3.5
30
0.50
8
40
0.67
14.5
8.5
KBZ22.5
50
2.2
3
5.0
18
0.30
20
33
0.55
26
8.5
KBZ32.2
80
2.2
3
5.0
36
0.60
11
55
0.92
19
8.5
KBZ23.7
50
3.7
5
7.7
12
0.20
30
33
0.55
34
8.5
KBZ33.7
80
3.7
5
7.7
30
0.50
20
55
0.92
29
8.5
KBZ43.7
100
3.7
5
7.7
60
1.0
11.5
90
1.50
18.5
8.5
KBZ35.5
80
5.5
7.5
11.4
36
0.60
25
75
1.25
34
8.5
KBZ45.5
100
5.5
7.5
11.4
60
1.0
16
105
1.75
23
8.5
KBZ47.5
100
7.5
10
15
48
0.80
30
84
1.40
40
11.5
KBZ67.5
150
7.5
10
15
90
1.60
15
124.8
2.08
31
19.5
KBZ411
100
11
15
22
60
1.0
35
84
1.40
48.5
11.5
KBZ611
150
11
15
22
102
1.70
22
147
2.45
32
19.5
KBZ415
100
15
20
29.5
60
1.0
42
84
1.40
56
11.5
KBZ615
150
15
20
29.5
102
1.70
30
156
2.60
40
19.5
Performace Curves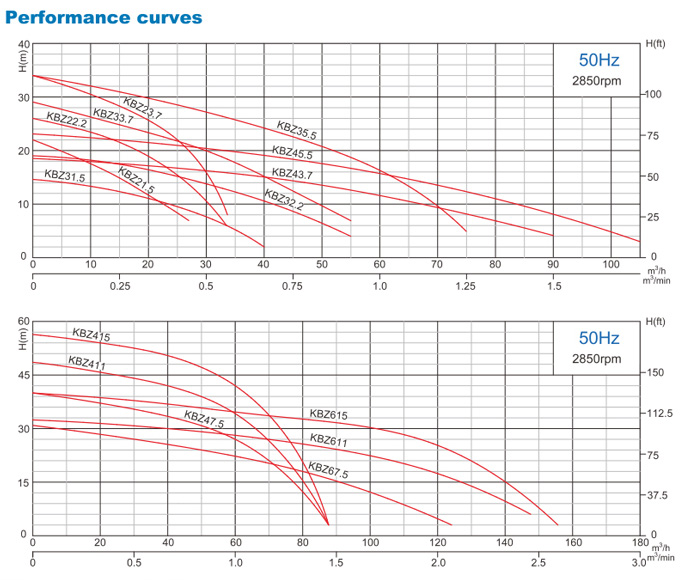 Download Catalog Here (Right Click and Save As)